Cell Phone Recharge in Cuba Since $1.00 Recharge Now!
Products with Delivery in Cuba
Removals and Unaccompanied Baggage
from $1.49 lb to $1.99 lb
All persons who obtain their legal residence in Cuba have the right to send their household items in a period of 6 months from the date they gave their identity card this household item includes: Living room set, dining room set, room sets, household appliances such as: Refrigerator, TV, kitchen, washer and dryer, air conditioning etc. And you will not have to pay anything in Cuba. This item is free of customs fees. Palco Cargo delivers the merchandise
Every person residing in Cuba who is visiting the United States or another country has the right to import a total of 1000 points on his return to Cuba, this can take him on his return trip as his luggage or he can send it as Baggage Not Accompanied and pay tariffs in national currency CUP. This service is normally used when the person wants to carry durable items that are uncomfortable to transport due to their weight or dimensions and would be expensive if it were carried as regular luggage on their return flight. Unaccompanied luggage such as Refrigerators, air conditioning, microwave, etc. pay the fees in national currency and the customs value can exceed $200.00 pesos.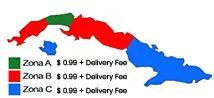 For more information on home delivery visit :